Dealing with cockroaches is not a pleasant experience for mosts. Unfortunately, getting rid of pests is something that most people have to deal with in their lives. The Brown Banded Cockroach is the pest we are going to talk about.
Today, there are 4 types that can most commonly be found in the UK, one of them being the Brown Banded Cockroach.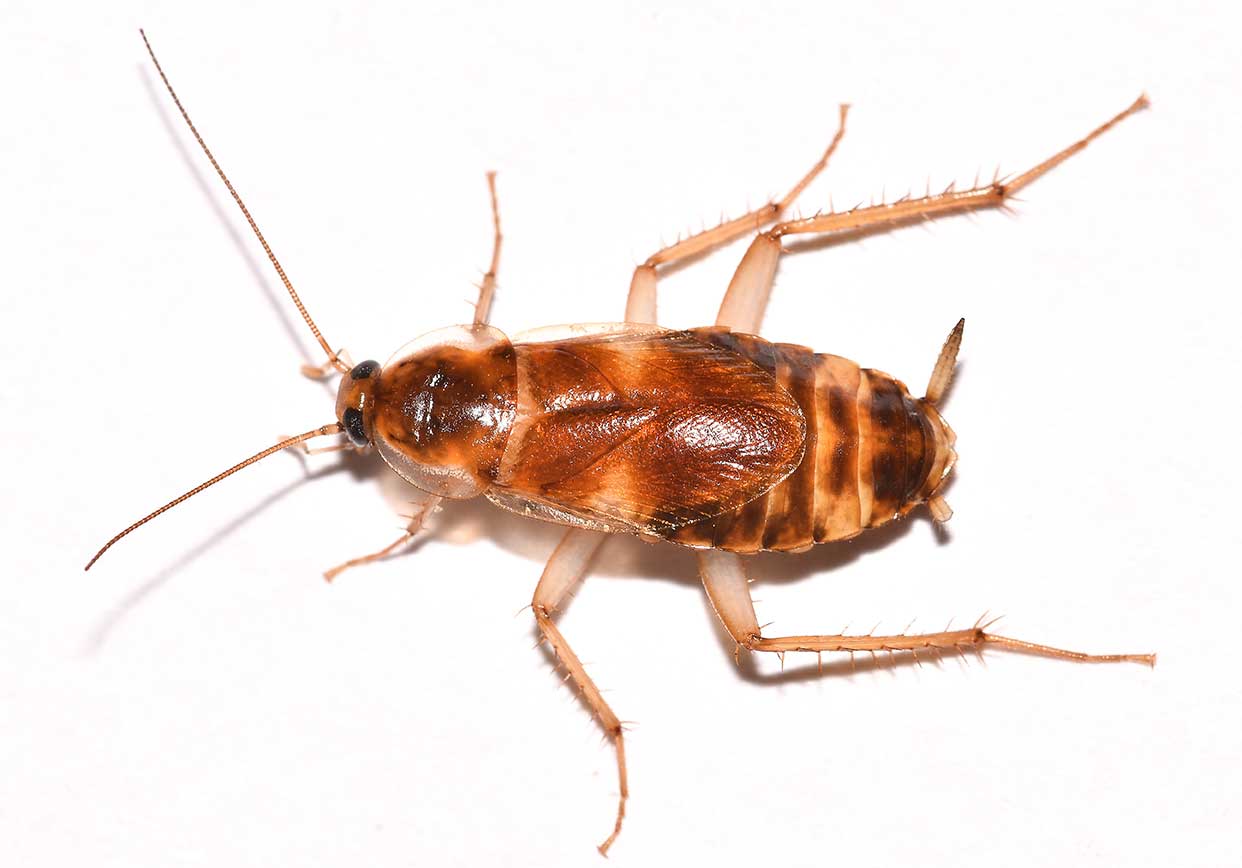 Adult Brown banded cockroaches are 12-15mm in length, they are light to glossy dark brown in colour. These cockroaches have two light yellow or cream transverse lines across the base of wings and abdomen. These bands may appear irregular or broken, but are usually quite apparent on the nymphs and females. Immature stages (nymphs) are smaller, have undeveloped wings and resemble adults. Egg capsules (Ootheca) are about 8-10mm long, purse-shaped, and yellowish or reddish-brown.
Like most Cockroaches, they prefer to spend time in warm, humid areas, where they have access to food. This might sound like your kitchen, which is the most common place to spot a Cockroach.
In order to spot a Brown Banded Cockroach infestation, it is enough to see one and multiple droppings. If it comes to that, contact us immediately.
Brown banded cockroaches can be detected by examining the premises after dark with a flashlight. During the day, probing hiding places with a wire will expose cockroaches. Look beneath tables, chairs, dressers and chests, behind pictures, on rough plaster walls and ceilings. One may find tiny black droppings or cast-off skins where they have fallen from above onto shelves or ledges. They dislike light and are not normally seen during the day.
All our technicians will abide by Government imposed Covid-19 regulations, meaning they will wear a disposable face mask and disposable gloves when they enter your home. Our technicians will also kindly ask you to socially distance when they are working.
If you have any of the problems stated above, do not hesitate to call us today at 0800 955 1015. We will try to dispatch a technician to your location in the same day so your problem can be taken care off on the spot.
Tags:
Brown banded cockroach
,
Cockroach
,
cockroach infestation london
,
cockroach pest control